Overview
Use the segments tab to create lists of keys that can be shared by splits in an environment. Segment your customer base to directly target these segments in your release process and re-use these segments across your splits.
A segment is a pre-defined set of keys that a feature can be targeted to. These segments can:
be imported from a file containing one key per line
be edited via the API
use the Split user interface to manually add IDs to the segment
Segments are best for targeting relatively fixed or specific groups of users that you can easily identify, like individually targeted accounts. For more dynamic targeting, refer to the Custom attributes guide.
As you think about feature releases, take a step back and acknowledge all of the things that segmentation helps you do better. Use your segments to:
Ensure quality testing: Example: If you want to release to your internal or outsourced QA team, create a qa_team segment.
Target employees for internal testing: Example: If you want to release to your entire company to test the feature or gather feedback, create an employees segment.
Plan your release strategy: Example: If you want to release to a group of customers who have expressed interest in a particular feature, create a beta_tester segment.
These are a few examples that engineering and product development teams should think about. There are many more ways that you can apply segmentation to drive better results and ensure a successful and safe release.
Create
Split makes segment creation easy. First, navigate to your segments and click Create Segment. This prompts you to create a new segment.
When creating your segment, you can easily specify information for your new segment, including name, description, owners, and tags. This information can help you and your team manage your segment and customize to your team's workflow.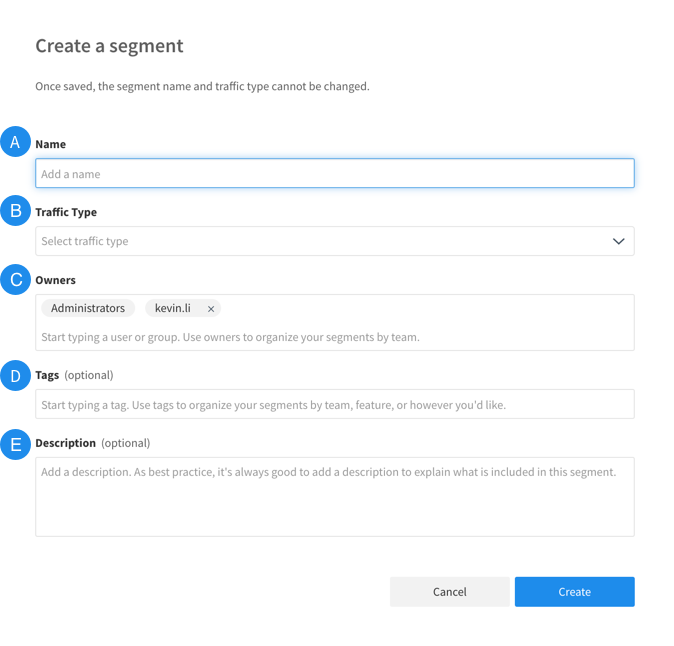 A. Name your segment
Give your segment an easily recognizable name.
Segment name requirements
Segment names must start with a letter and can contain the characters - _ a-z A-Z 0-9. Note that segment names cannot specifically be called datetime, string, or integer.
B. Specify the traffic type
Select the traffic type you want to use this segment for.
C. Add owners
Add one or more owners to your segment. Use owners to isolate segments in the browse panes to those owned by me and simplify permissions by providing owner edit rights for a single segment across all environments by toggling permissions on. When toggled on, permissions inherit owners as editors.
D. Add tags
Add one or more tags to help you categorize the segment. You can use tags to isolate to a particular team or feature release. Create tags like reporting team, front end, or geo search release.
E. Describe your segment
Provide a description of the segment. This helps your team members understand the segment's purpose.
F. Create your segment
When all of the details are in place, click Create and you are taken to your new segment.
Add a definition
To use the segment in a given environment, click the Add definition button. You can create and define customers within this segment.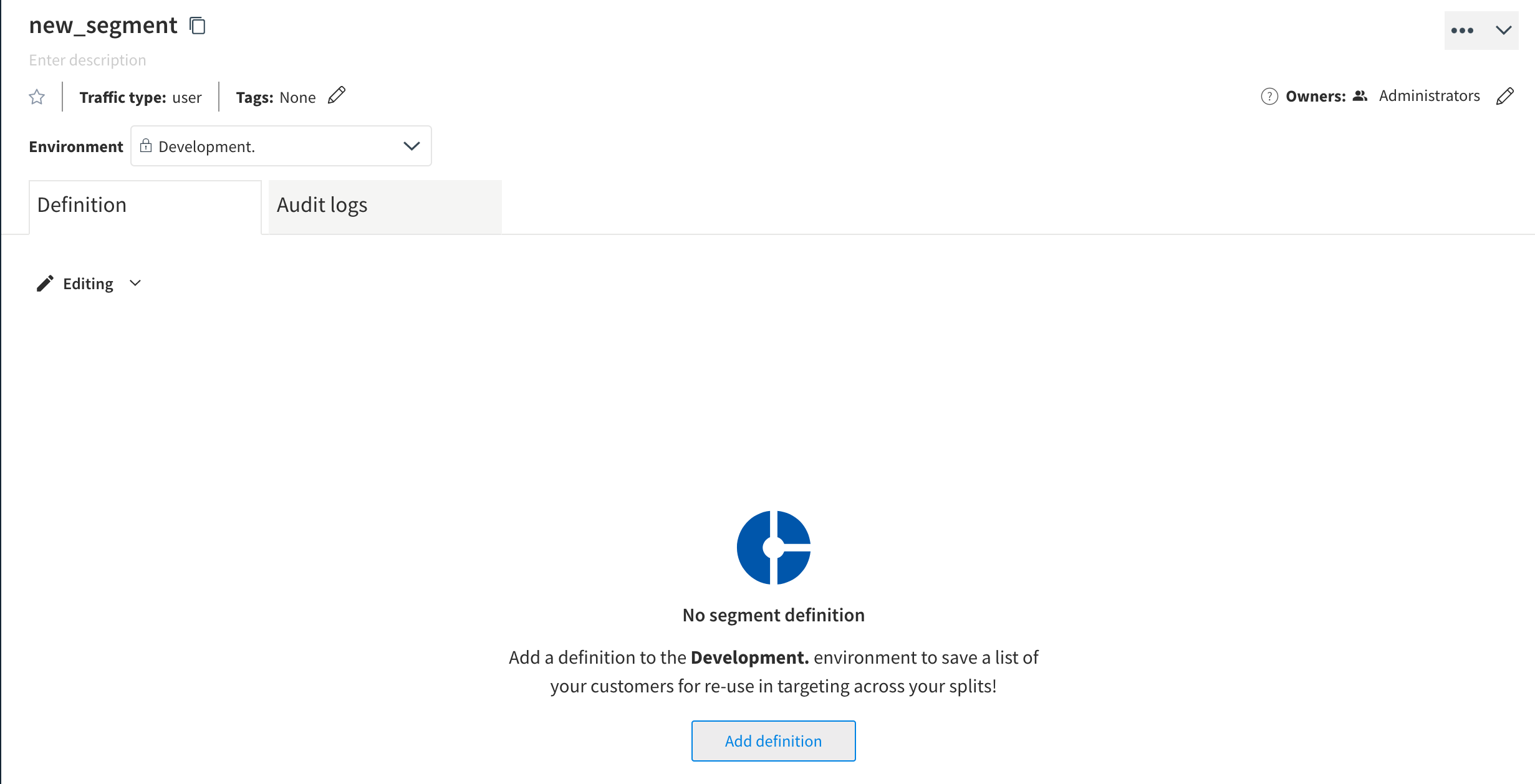 After configuring the segment, you can begin adding customers to it.
Limit: Number of customers in a segment should not exceed 100,000
When you add customers to a segment, remember that these are lists that then need to be fully downloaded to all of our backend SDKs. Too many customers in a segment mean that your SDKs take longer to get ready. By default, you will not be able to add more than 100,000 members to any one segment to avoid delays. Reach out to our support team if you need larger segments.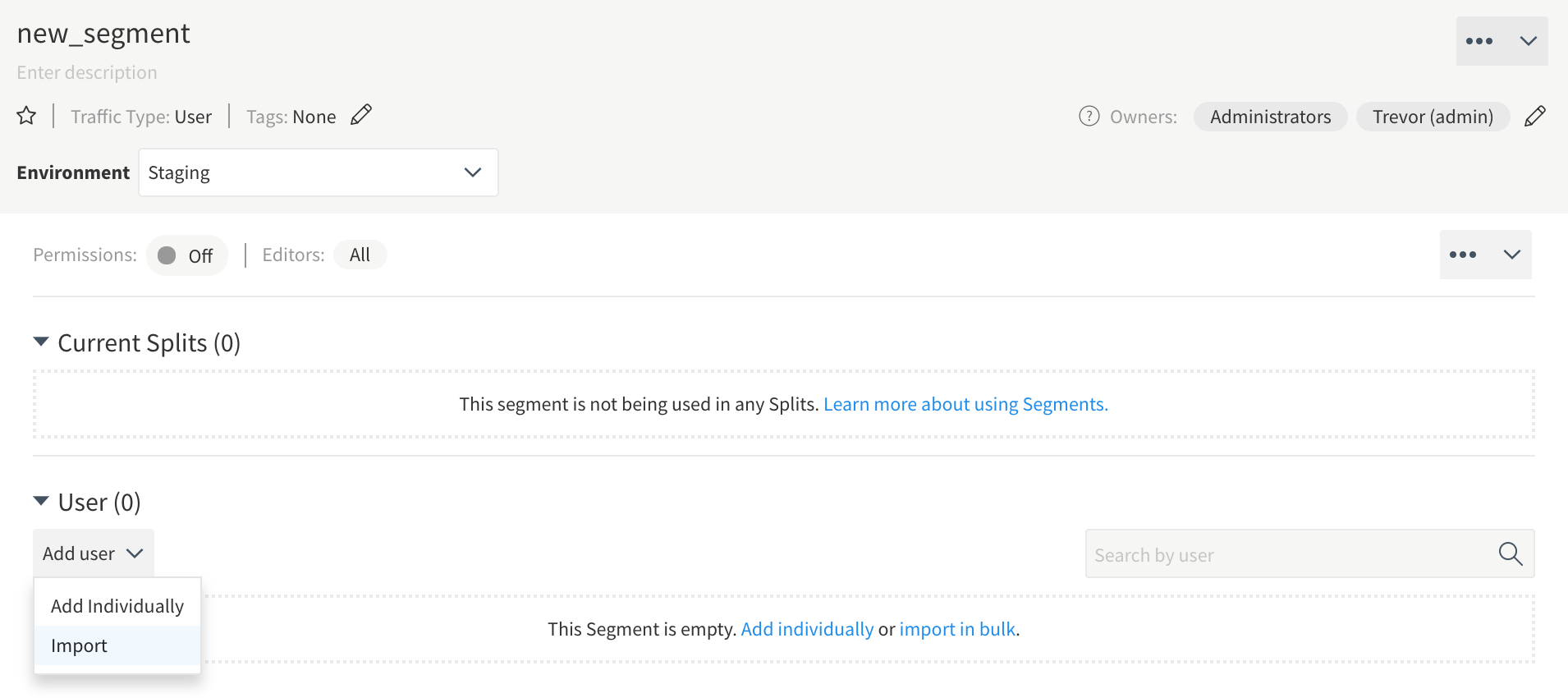 You can use your segments in your split targeting rules to target a particular set of customers or a percentage of a particular set of customers.