Audit logs are captured every time a member creates, updates, kills, or reallocates a split, and each time a member add/removes owners and adds/removes tags. These logs provide detailed records of every change that took place, who made them, and what exactly was added or removed from the treatments, includes, or targeting rules.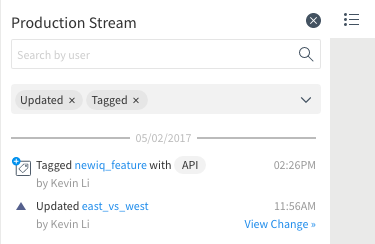 Click View Change to see more information about each update, including a diff view of what elements of the targeting rules were edited.
You can monitor this data via the web console to more easily audit every modification made to splits over time or to troubleshoot any issues that occur during rollout. You can pull out this data via Split integrations or the outgoing webhook for analysis within other tools.