For increased login security, you can add two-factor authentication (2FA) for your Split account. With 2FA enabled, Split asks you to enter a verification code after authentication.
Setup
Set up 2FA in a few steps:
Go to My Settings > Security.
Click Enable Two-Factor Authentication.
Download an authenticator app like Google Authenticator.
Scan the QR code on your screen.
Enter the 6-digit verification code generated by the app to complete setup.
On your next login, you are prompted to enter a code generated from the authentication app on your smartphone.
Manage
See 2FA status for users
Administrators can see which users on your team have set up two-factor authentication. In Admin Settings > Users, column 2FA shows a user's 2FA status (enabled or disabled).
Disable 2FA for someone who cannot sign in
Administrators can disable 2FA for users on their team:
Go to Admin Settings > Users.
Click Disable 2FA in the Action column next to a user's name.
FAQs
I've deleted or can't find the authenticator app used to enable two-factor authentication. How can I log in?
If you lose your phone or no longer have access to the authentication app used during setup, use one of the recovery codes provided when you set up two-factor authentication for your account.
You can use any of these codes to access your account. Note that each recovery code can only be used once.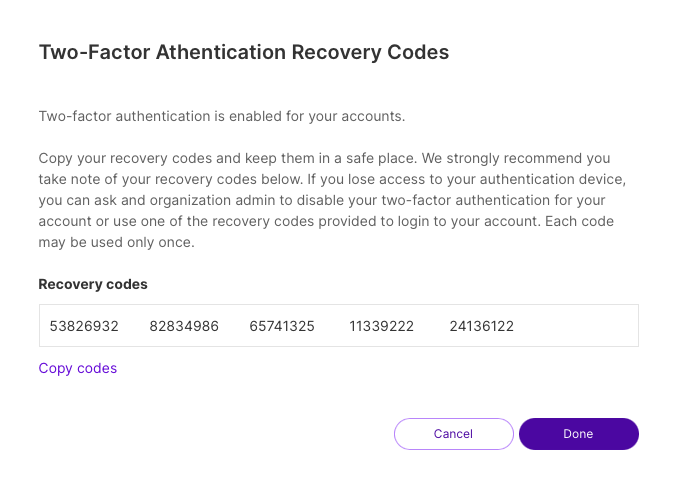 Note
While the recovery codes allow you to access Split in an emergency, you should contact your team's Administrator to disable two-factor authentication and then complete the setup process again. If you do not have access to the recovery codes, your team's administrator can disable two-factor authentication for your account.