Select version
To ensure statistical rigor, Split filters your metrics impact by version. Each time a rollout plan is changed, Split creates a new version to avoid mixing experimental data, which would lead to inaccurate data and metrics results. Select a version of the experiment to see your metrics results.



Select targeting rule
To ensure statistical rigor and prevent issues that could arise due to unequal distributions across the sample set, we require customers to filter their results by the targeting rule used in the evaluation.
If you select the targeting rule any, your metrics results still show up, but do not display statistical significance.
To see a statistically significant comparison when comparing two treatments, select a label for which you would like to see your metrics results.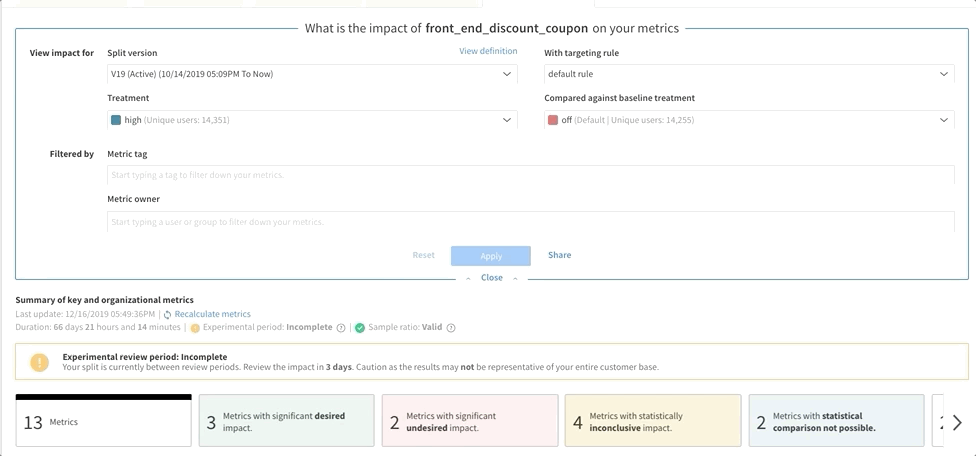 Select treatment and baseline
Metrics cards can be viewed for the customers exposed to a particular treatment, as well as compared against customers exposed to two treatments.
Select the treatment for which you would like to view metrics impact and add a baseline comparison (optional) if you would like to see statistically significant comparisons.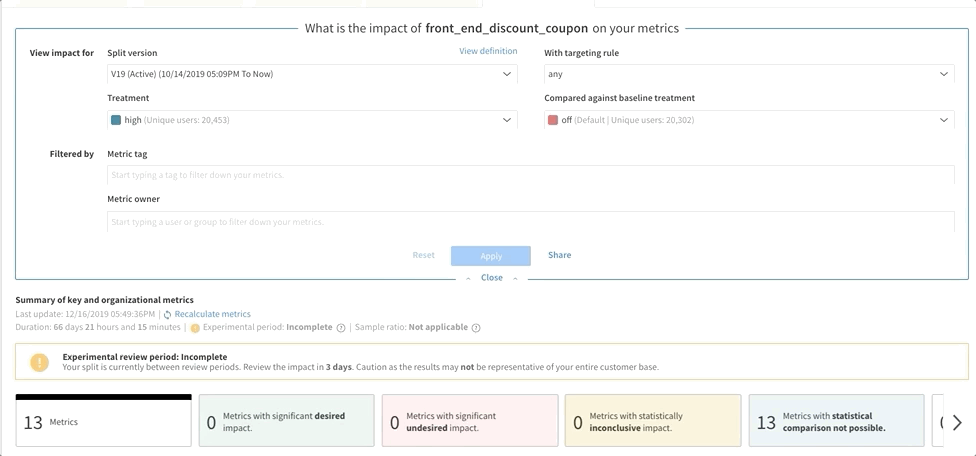 Select tags and owners
If your organization has many metrics, you can filter the metrics displayed down to those with a particular tag and/or a particular owner. Learn more about using tags and owners in Split.

Share applied filters
Use the share button to send your metrics impact page to key stakeholders. Click share and a shareable URL is added to your clipboard.
The shareable URL provides a view of the metrics impact page for that specific split. The version, targeting rules, treatment comparisons, applied tags, and applied owners are all shared. Users can then filter to those metrics positively and negatively impacted.