With Split, rules are evaluated from the top down. 
Whitelists - users you explicitly assign to a treatment
Traffic Allocation - users you want to include or exclude from rules
Targeting Rules - specific subsets of users targeted by attributes
Default Rule - users included via traffic allocation, but not in a whitelist or targeting rule
Default Treatment - users excluded from rules via traffic allocation
As with rules, the order of treatments matters.  For example, if you have 3 (or more) treatments you'll want to think through order based on how you want things to change as you change percentages. 
Let's use changing the Default Rule as an example, with current, treatment1 (t1), treatment2 (t2).  You've set it to 33/33/34 and you want to move everyone out of t2 and set t1 to 67%. 
In the first case below you can set t2 to 0% and t1 to 66% and all of the users would flow from t2 to t1.  This would also be true if t1 was above t2.  The 33% assigned to current would remain consistent.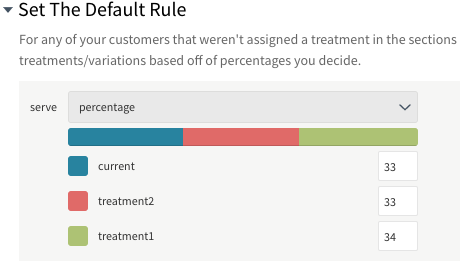 But in the case below, setting t2 to 0% and t1 to 67% would move the 33% from t2 to current and the original 33% in current to t1, along with the existing 34% in t1.  Obviously, this may not be the experience you want for your users.
​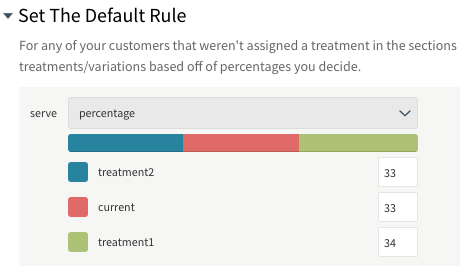 Similarly, the whitelist evaluations are done in the order of the treatments. So, in the case below, even if user 12345 is in the beta-users or Employee segments they will get current, because that's evaluated first.  Similarly, if user 67891 is in the users segment they will get current, not treatment1.



​