Create
Split makes feature flag and experiment creation easy. First, navigate to your splits and click Create Split. This prompts you to create a new split.
While creating your split, you can easily specify information for your new split, including name, description, owners, and tags. This information can help you and your team manage your splits and customize them to your team's workflow.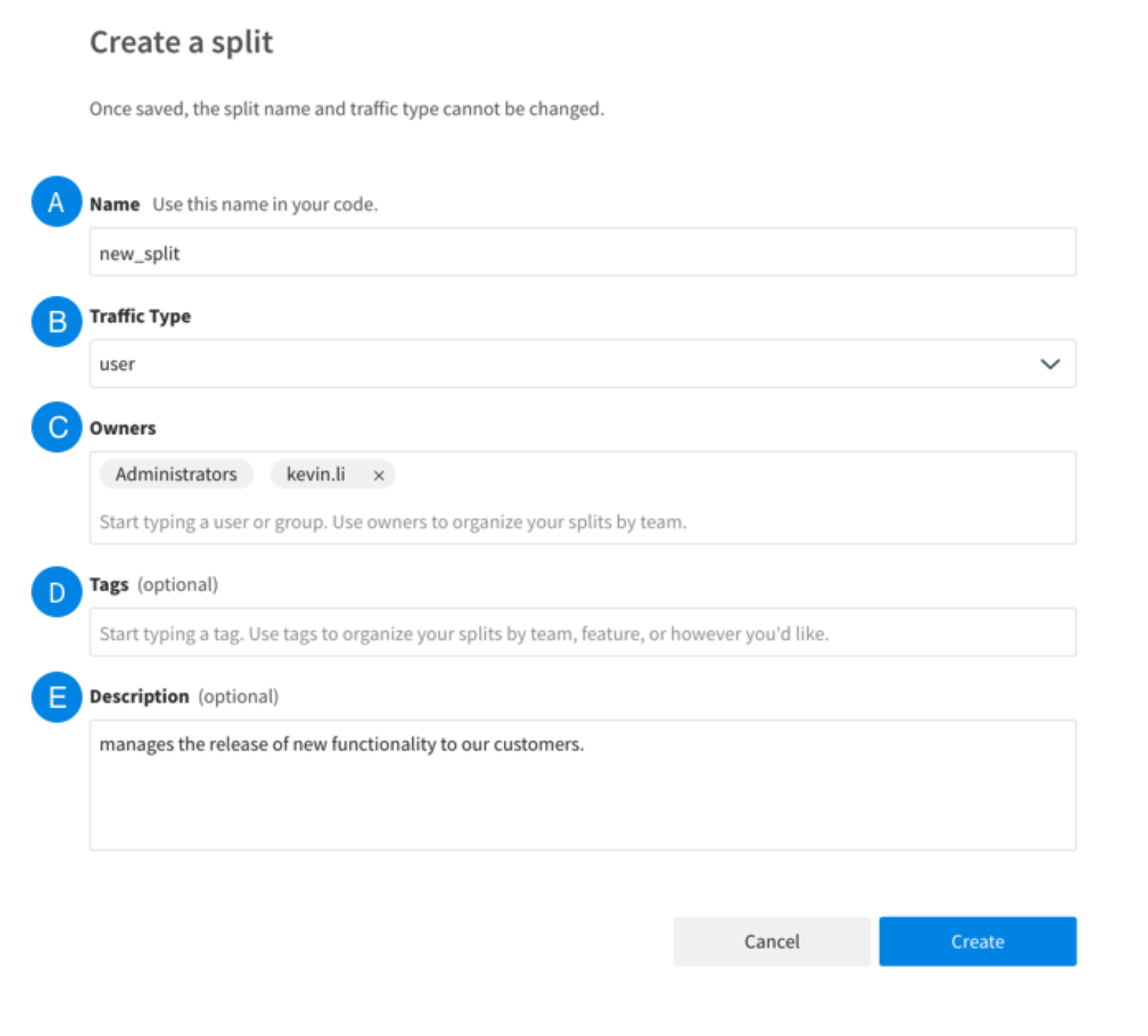 A. Name your split
Give your split a name your team can recognize.
Split name requirements
Split names must start with a letter and can contain the characters - _ a-z A-Z 0-9. Also note that split names cannot be any of these words by themselves: datetime, string, set, or integer.
B. Specify the traffic type
Select the traffic type you want to use this split for.
C. Add owners
Add one or more owners to your split. Use owners to isolate splits in the browse panes to those "owned by me" and simplify permissions by providing owners with edit rights for a single split across all environments by toggling permissions on. When toggled on, permissions inherit owners as editors.
D. Add tags
Add one or more tags to help you categorize the split. You can use tags to isolate the split to a particular team or feature release by creating tags like reporting team, front end, or geo search release.
E. Describe your split
Provide a description of the split. The description help your team members understand the split's purpose and what functionality is being controlled.
F. Create your split
When all of the details are in place, click Create and you are taken to your new split.
Add to environment
A split contains everything that pertains to a feature, including all of the environments that it lives within. To configure your split for a particular environment, select the environment and then click Add to Environment. You can create and define targeting rules including treatments within this split.